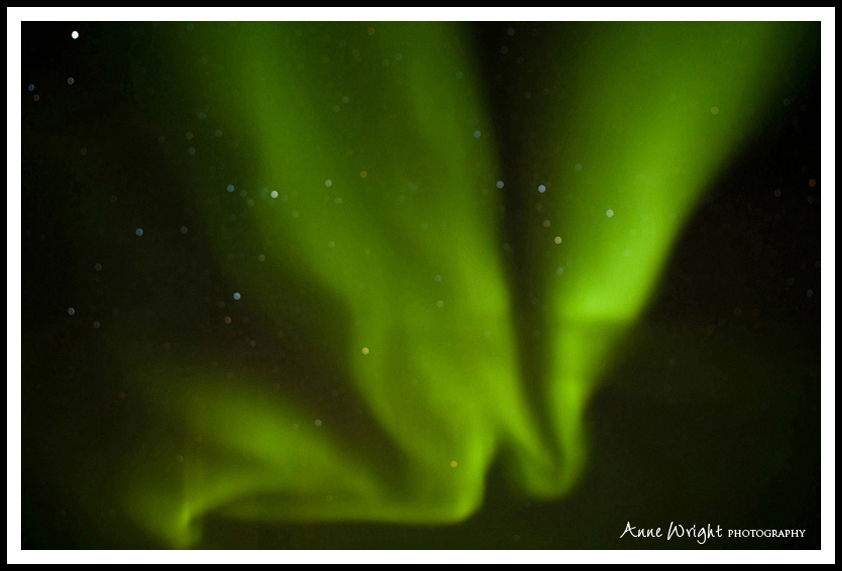 … People would ask. To see the Northern Lights, of course!! We can also call it a business trip – could have gone to a workshop, a conference. Instead I got myself North of 60 in deep winter to create images there. I also wanted the solitude; the quiet; the cold even – blame Jack London (I know, this isn't Yukon, but close enough). For a few months now, when people have asked "How are you?", I've answered with a big smile "Great! I think I'm in the middle of a midlife crisis! What's up with you?". Most of the time they look at me weirdly, then smile it away. Maybe they think I'm joking – more likely they don't know what to say, and that's ok – we all go through times like those, they're not automatically bad but they're not necessarily easy to discuss either. Craig Cardiff, whom I've met here, sings in Not The End "Dear You, promise to stay awake, life has a way of pulling you to sleep" – and I just want to make sure I haven't gone to sleep. Things have felt a little out of balance lately, I think I need to do some things better – I'm just not sure right now what better means 🙂 . Tyson Motsenbocker might express it better than I would in his song I Still Have To Go – "I came to this town to escape my pain, but I'll end up leaving the same way that I came, cause I'm always blindest surrounded by friends, the comfort and shelter that I find in the end. So I'll be waiting when we're older, all my motives are showing shoulder. And I know I can't find the things for which I'm searching in the places that I'm looking, but I still have to go". And so I went.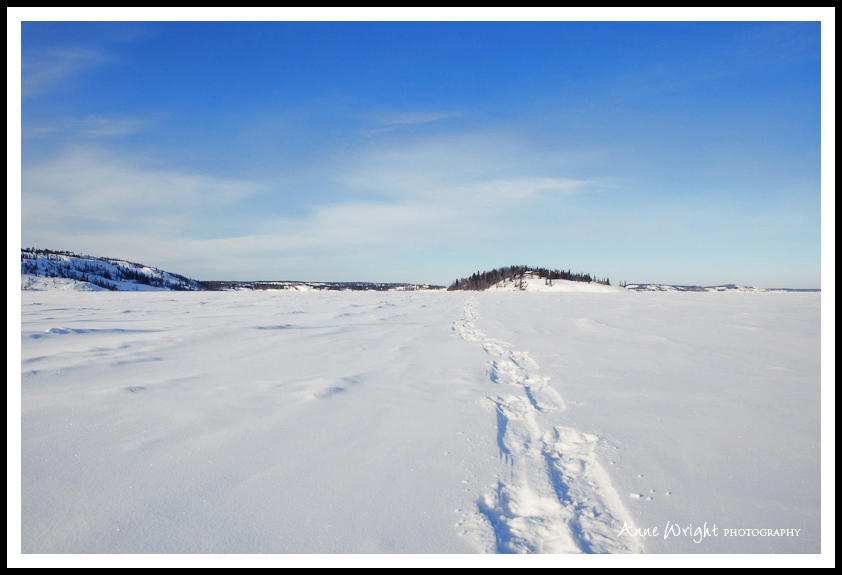 People
I have always loved to travel. As soon as I could afford to, I did. I have only been to 20 countries (well, 19 really – I was only one hour in Kuwait… but 18 US states and 5 CAN provinces) and many of of my friends easily beat me there. Though I have seen a few places I have a very long "dream list". If I didn't have the means to travel, I like to think I'd find a way. It doesn't have to be exotic – there's something inherently exciting about the unfamiliar; new places, new experiences, new people. The really great thing about traveling on your own is that you're so undistracted, you notice and meet the most extraordinary folks – often they come to you "What's a girl like you doing out here all alone?" 🙂 . And for that Yellowknife was quite amazing – not many travel there and certainly not everybody lives there. It takes a special kind of people to say "I think I'll move to the arctic and just chill…".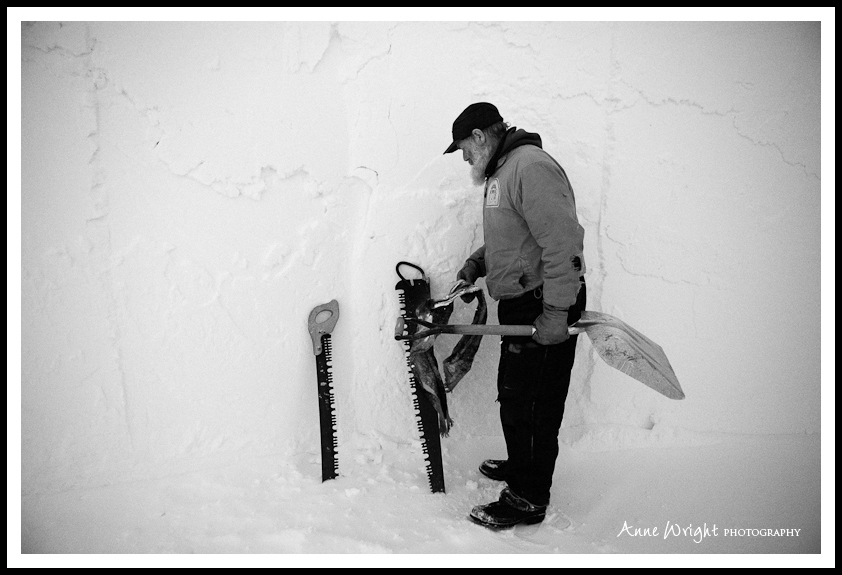 Of course there's a huge turn-over of young corporate & mining blood – coming for a few years as the salaries are good. But not surprisingly, the place also attracts artists, hermits and lost souls hoping to find themselves again. And so I've met a few interesting people.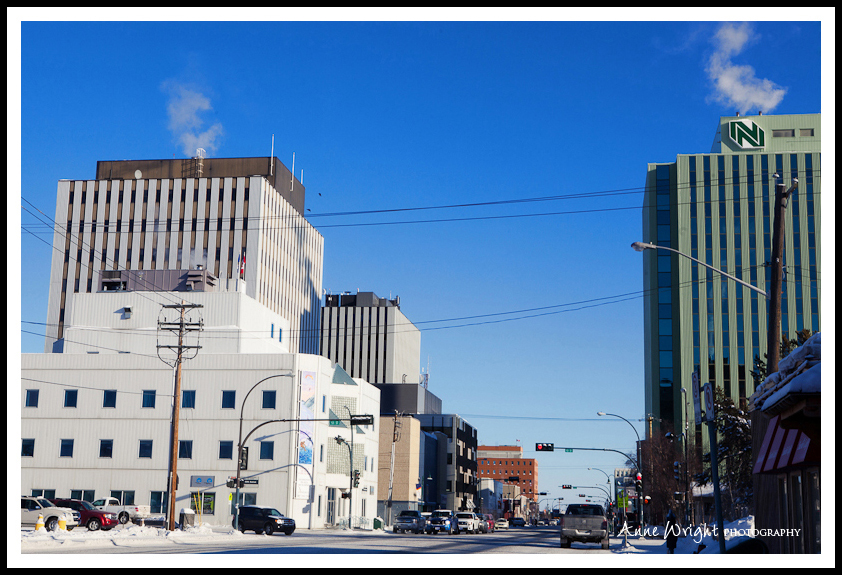 The waitress of the Bullocks Bistro told me she had come over from Dresden in 1984 – if you need a minute for it to register, as I did, yes, that means from behind the curtain before the wall fell. I've met the Canadian dog sled champion of 1991, Grant Beck, who told me he's been riding since he was 9. He showed me his race photos with a pride that was tangible. He won the Canadian title with his 10 dogs by covering 80km in 3h15min and competitions in Quebec driving 240km in 10h34 minutes. That means those dogs can sustain a speed of 23km/h for 10.5 hours straight!! I've met Hung as he was ice fishing with his "tented" buddies on a lake. He came over from Vietnam in 2009. I told him my grand-father on my mother's side had lived there for a while and that my great grand-mother on my father's side was half Vietnamese – or half Japanese, we're not sure, that was never quite clarified, which is weird I know. He asked if I wanted to fish and handed me over his line.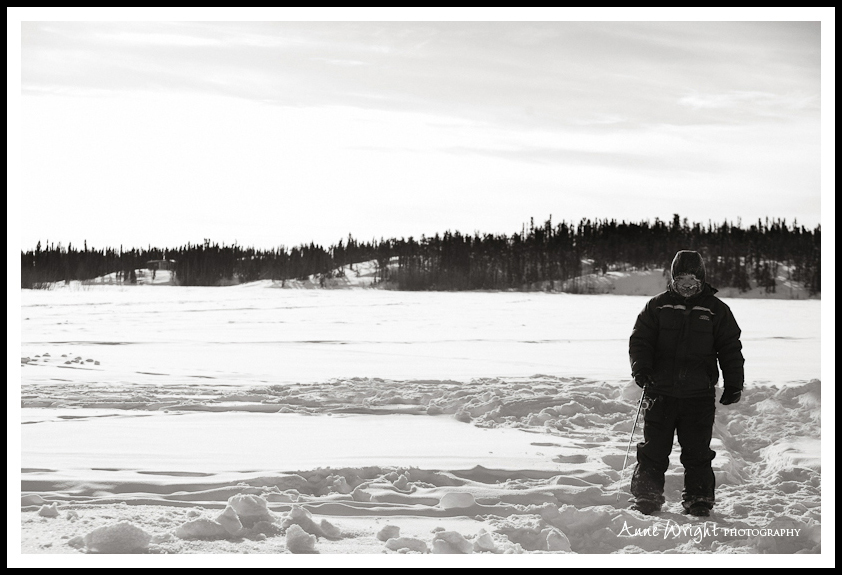 I met Royalty as well, the SnowKing of Yellowknife. Every March for the past 19 years, the SnowKing Festival takes place. It takes 2 months to build the ice castle and then they throw a month-long party! I was walking around taking pictures when this guy comes over "I saw you watching us – I am SnowKing and over there is Jack Frost" As he could tell that at the time that I had no idea of who he was (actually for a second I thought, hmmm, have you possibly been drinking?…), he said "Well, I have quite some leverage here – would you like a private tour of the inside? We're not letting people in normally, but as I said, I'm SnowKing…" Yes please SnowKing!! I am Anne, your new subject!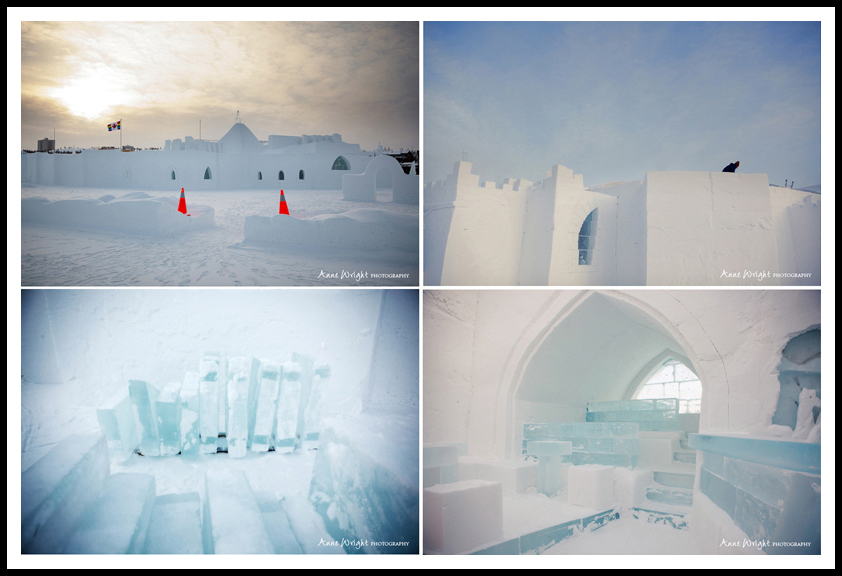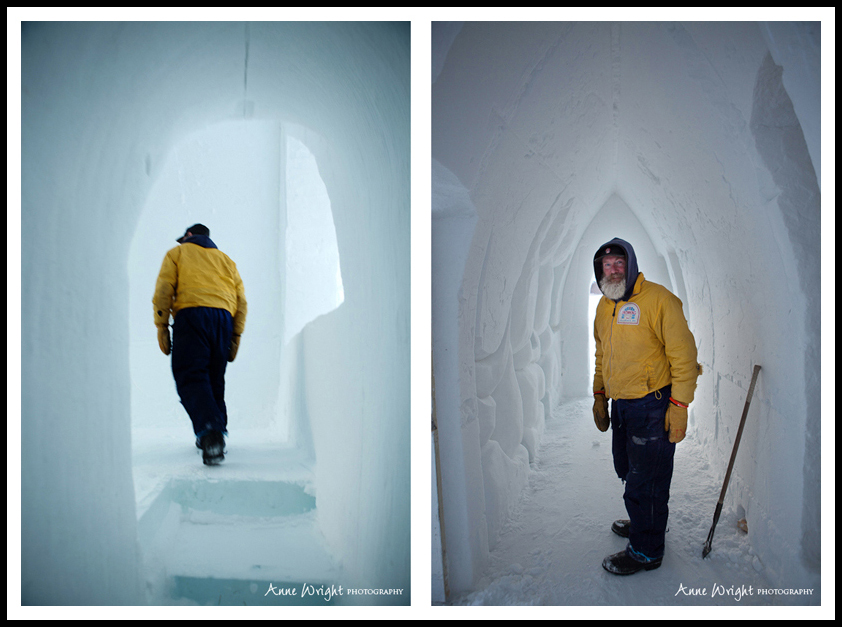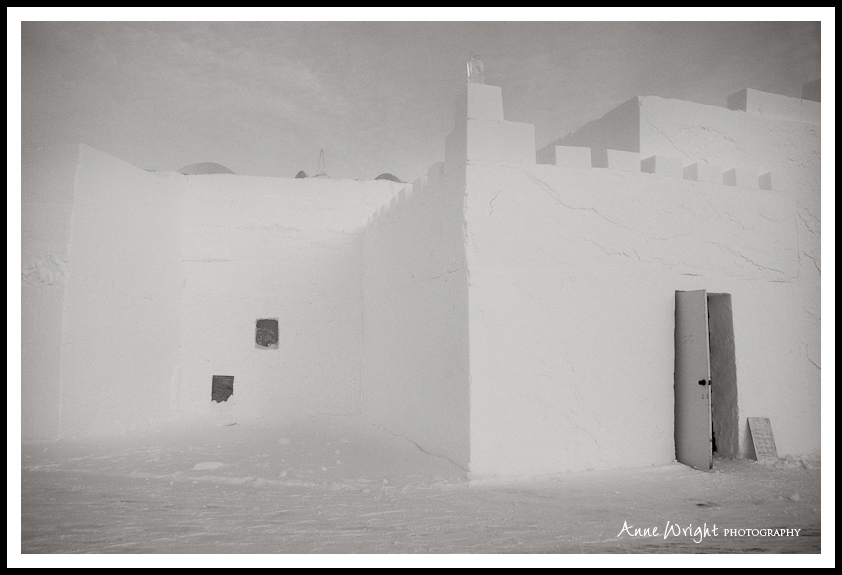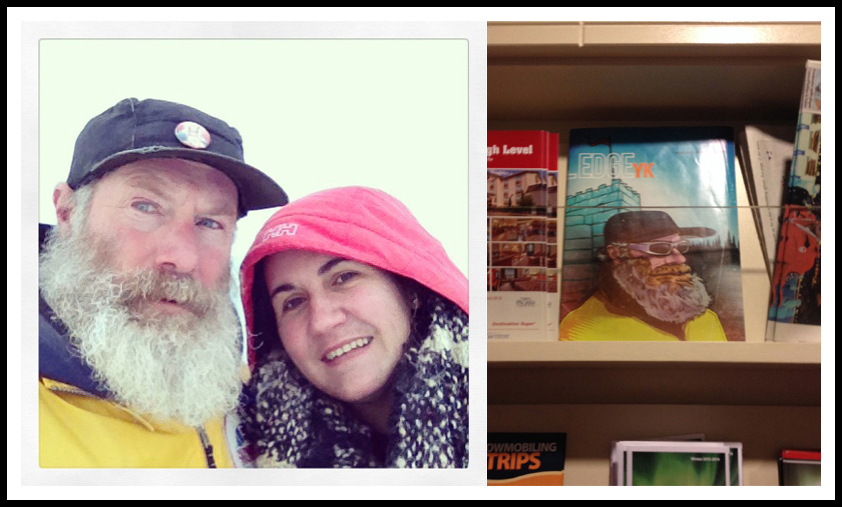 One night I went to the "Black Knight" pub, paid the $20 cover charge after a run to the nearest ATM in -33C without my coat (hence the little note on the CD below) and listened to Craig Cardiff for the first time. I didn't know yet that he was a Juno nominee, nor that he was incredibly funny and connected to his audience – but when he started singing "About the almost's and the should'ves, the could'ves and the can'ts, the moments you wished you picked with your heart and not your head, I'll do my best to tell you, sing it simply and explain how it's extra to light the candles but there's no charge for the rain" I knew I was going to have a great evening!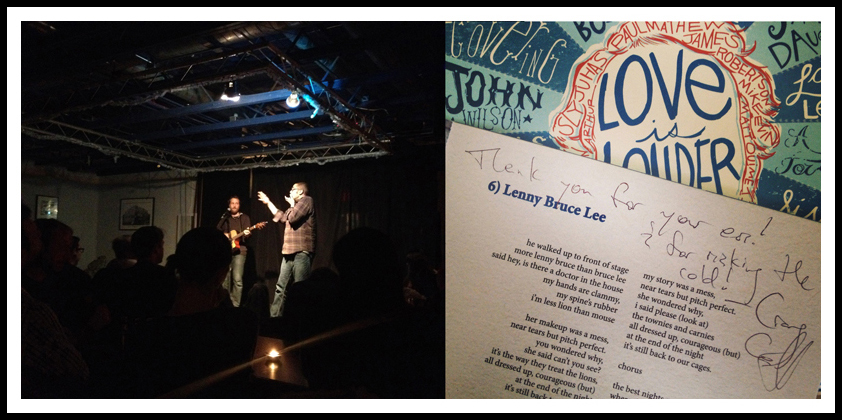 He asked us to fill out his "truth notebooks" with the answers to 4 questions 1) What are you going to let go of from tonight onwards? 2) What are you excited about for the future? 3) Your first kiss? 4) Juicy sex story? 😀 . At the end of the show he said that when he reads the books, he thinks "Wow we are all f@cked up, really. All of us." And then he added "Well, mostly you – really, considering what I've just read, I'm doing pretty good!" 🙂 .
And there was also Stéphanie from Québec who came to see the Northern Lights and the big darkness for one winter, 5 years ago, and never left. And the bookstore girl who has this massive, massive section on "Northern Studies" whose eyes twinkled and smile widened when I said "ok, show me your favorite novels about the great North – I'll get those." She answered "Unusual but good request! Let's start with "The Lesser Blessed" by R. v Camp – Can you handle swearing, sex and drugs?" – I'm kinda half French, half Dutch, what do you think? (and what a book btw!). And there was Emily at the art gallery co-op who told me how recovering from her spinal injury, she had made textile pieces – one of them I straight away recognised that afternoon hanging in the museum. And when you travel North of 60 and you're in a car by the side of a small road watching the sun set, just about every vehicle that passes by stops: "Do you need help? Are you ok?!" Oh yes, I'm ok – I am SO ok 🙂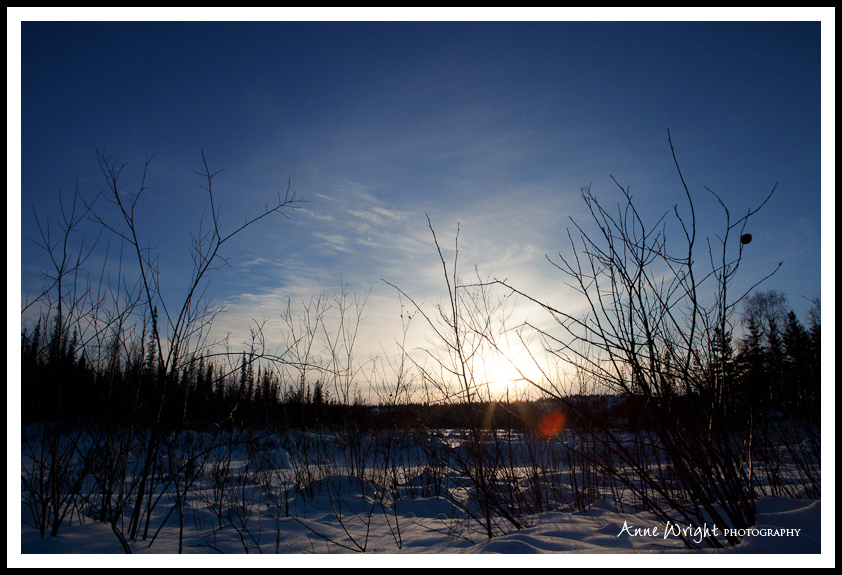 The Auroras
Now the main reason I came to Yellowknife was to see some Aurora Borealis. If you stay 3 nights up there, you will have over 95% chance of catching one. My first evening, it was completely cloudy – no luck. Meanwhile they were sightings in Calgary (Oh Murphy, you and your silly law…). But the 3 nights after that, I saw them…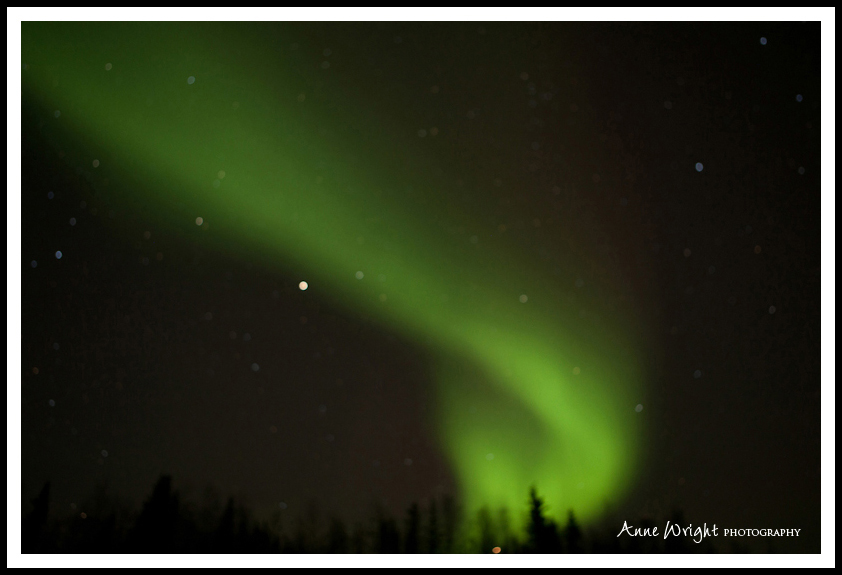 The Friday night, after the gig at the Black Knight was over, I headed past Midnight to Prosperous Lake to get away from the light pollution from the city. Once I reached the rest area, I dimmed all the car lights, looked up and I saw this thin sliver of light move across the sky. I bit my lip as I could already feel my eyes prickling, I put on my headphones with music I had brought for the occasion – and I looked up. It was overly beautiful. No. It was better than that – it was Magical. I know, I know, it's Physics, not magic, but science does not weaken poetry. And Auroras are just that, poetry.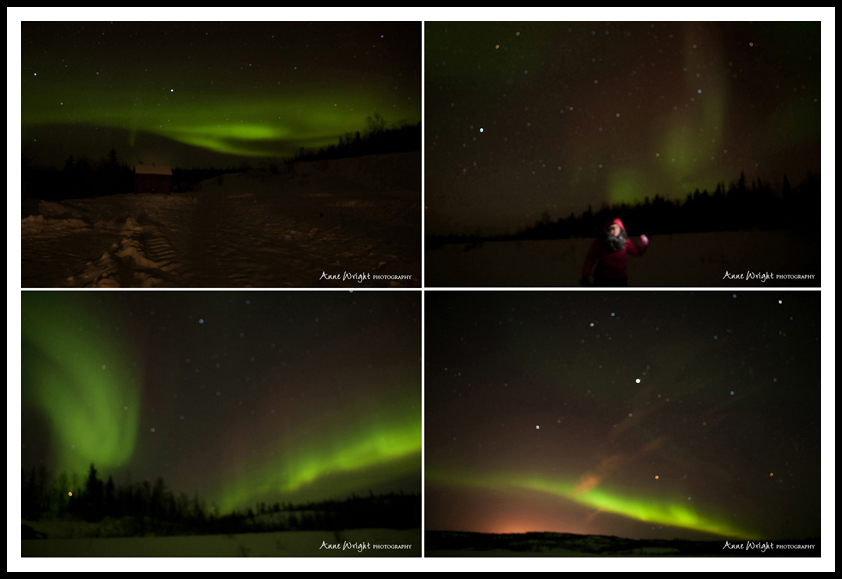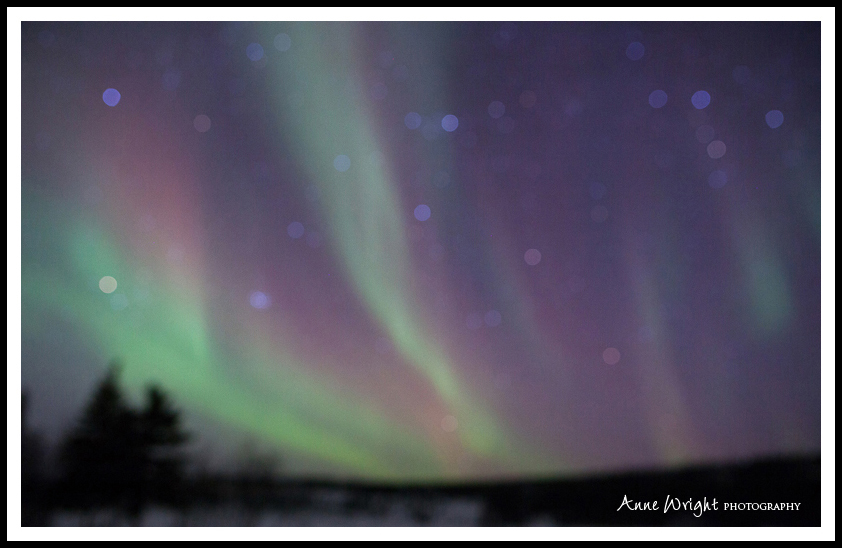 I wish I were better with words so I could describe how they move, project themselves, oscillate, ondulate… How they pulse. They wander in different ways. Sometimes they're like tinsel that some invisible giant is flinging in the sky. Sometimes it seems they decided to take up belly dancing. I felt so grateful to witness it. It was humbling, joyful and breathtaking all at the same time. The first night, I cried – several times. And I mean the actual ugly sobbing cry… I know I have a tendency to tear up as soon as something touches my heart but still, there's no denying of how powerful that experience was. I also laughed out loud and smiled and was overall mesmerised by the beauty of it all.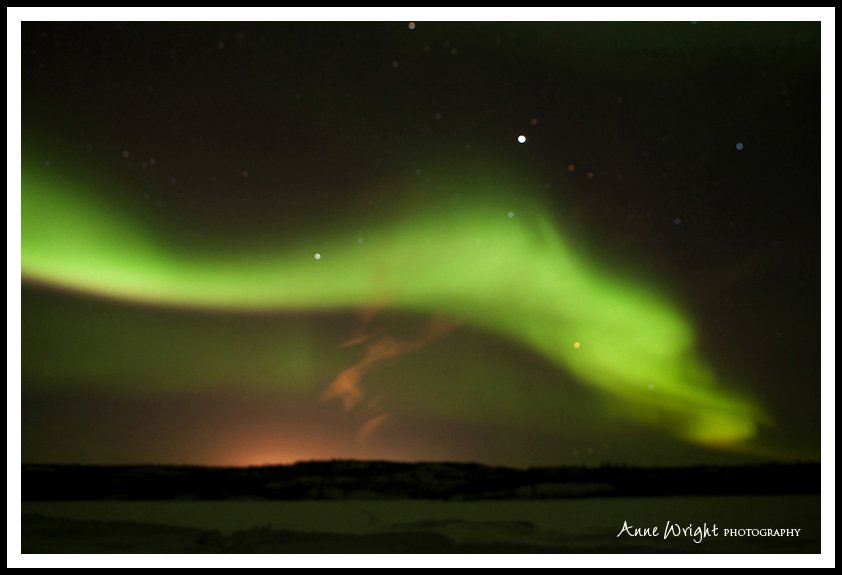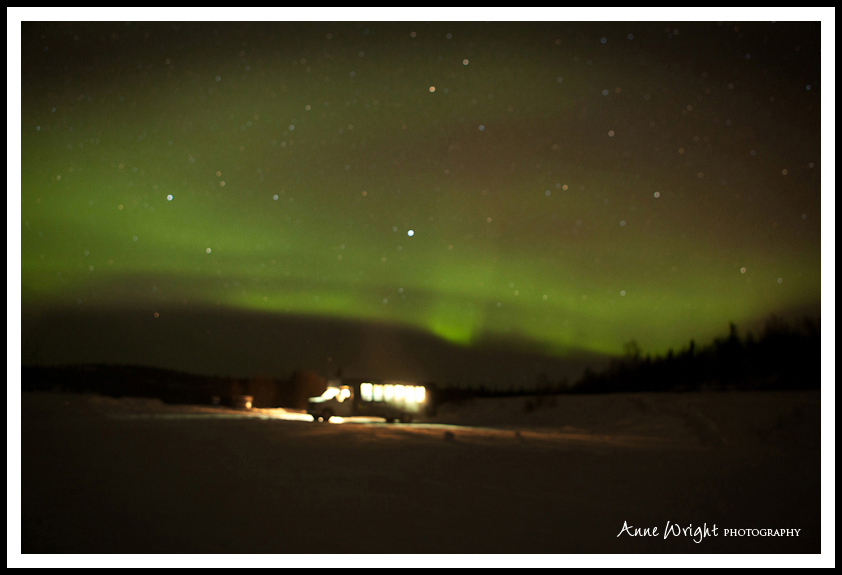 I have to add though, because I'm posting all those colourful photos, that the northern lights I saw were not as strong as I thought they would be. They were quite weak, hazy and whitish with an ever so slightly tinge of green. The tones you see on the photographs are saturated from long exposures. If you imagine all of them whitish, that is more what I saw – and you might think it's less impressive and it probably is – but the movement is what makes it magical. I only witnessed level 4-5 Auroras, not "good enough" to really see the different hues with the naked eye. Nevertheless, magical.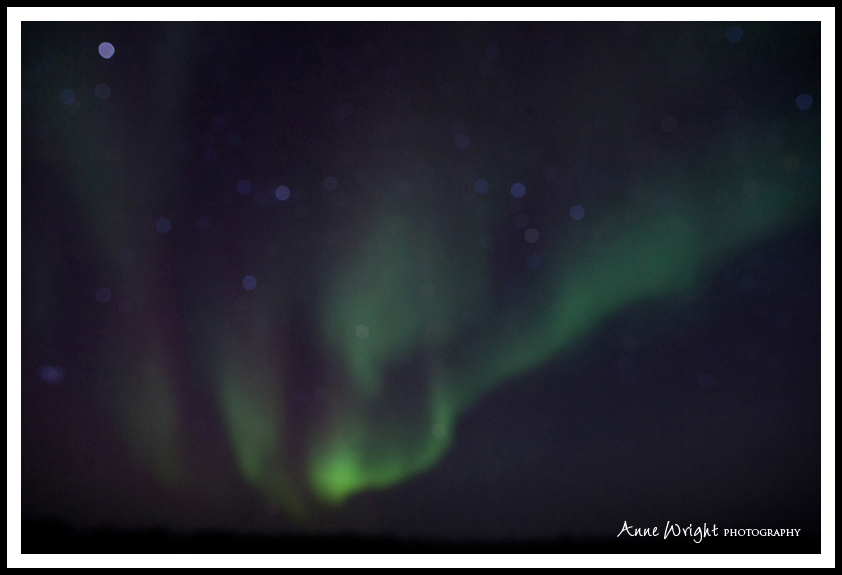 Some other experiences
I had expected to mostly do "nothing" (ie read, write etc) while waiting for night to fall. But it turns out you can full 3-4 days easily when in Yellowknife. There's a great museum. A few galleries. Live music performances (one I saw in a restaurant that was scaringly reminiscent of the 80's with a lit up orange bar and black formica tables). I tried to visit the legislature building – got the time wrong.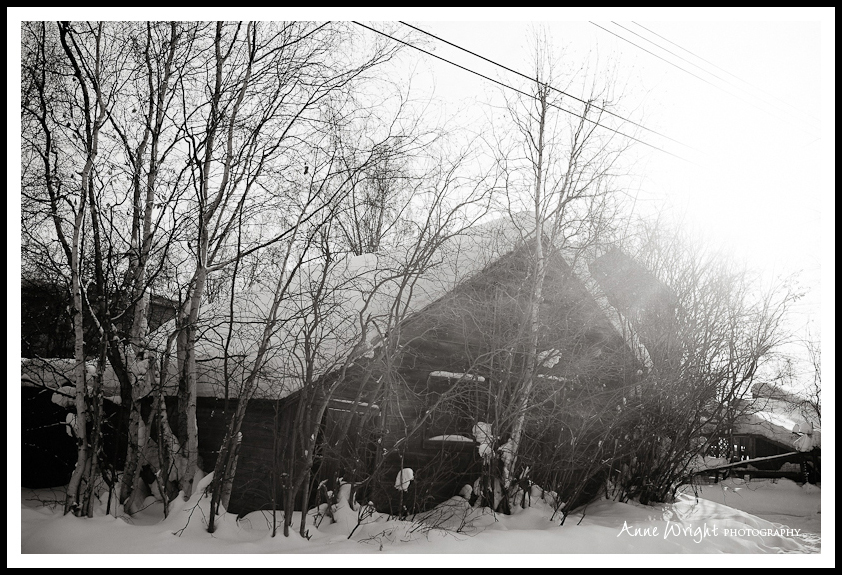 I went for a dog sled ride – that was kind of a childhood dream. We were 5 in there and you're not riding it yourself. But it still is pretty great. Those dogs go fast and they do not care about the bumps on the ice and you're flying in there. On one turn, I could really feel the torque on the sled and I thought of those scenes in London's novels where they overturned. The dogs were rather fascinating to watch. You could see some different personalities even as they were riding – one for instance kept on running while looking backwards prancing around or eating snow. I'm pretty sure in the summer he must go "SQUIRREL!!" more than the others…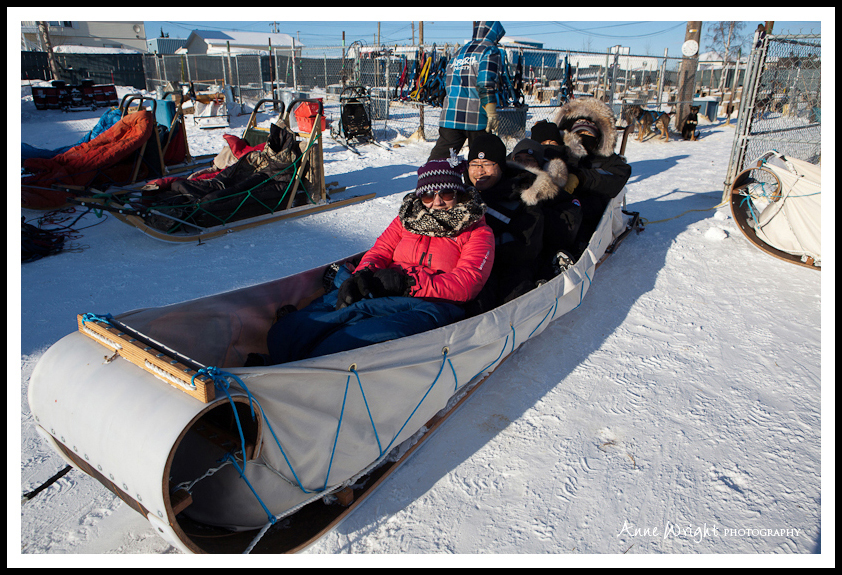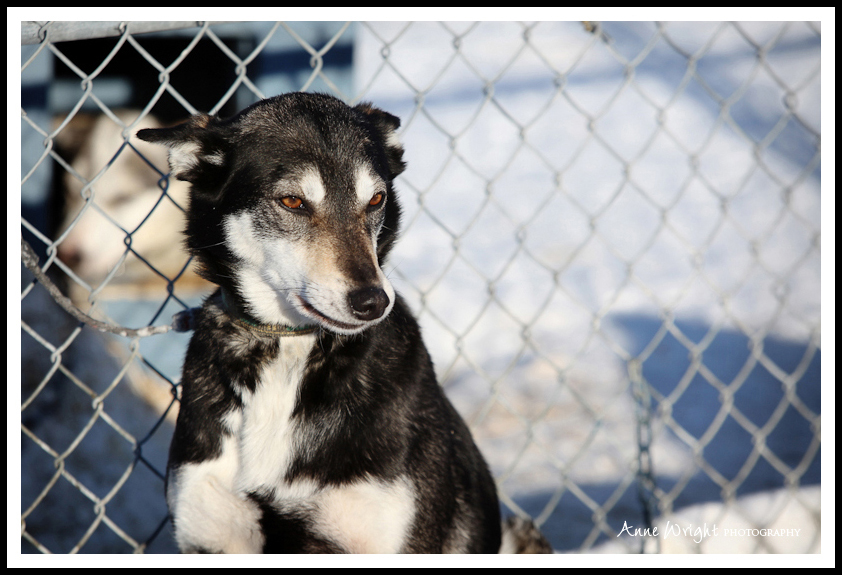 One morning I saw 3 dudes on their knees on a lake. It took me a bit of time to realise what they were doing and when I did, I doubled back and sure enough as I walked towards them I saw two of them being tented – and a fish was caught! That's how I got to ice fish with Hung. He and his buddies had to drill through a meter of ice. It was an impressive ice drill… And I have photographic evidence of me ticking off the one item of my Canadian bucket list I was pretty certain I would not accomplish.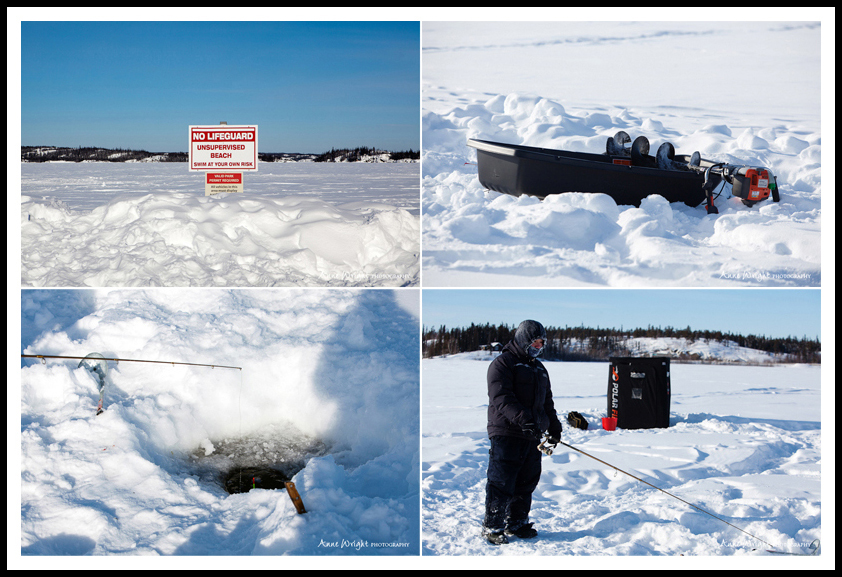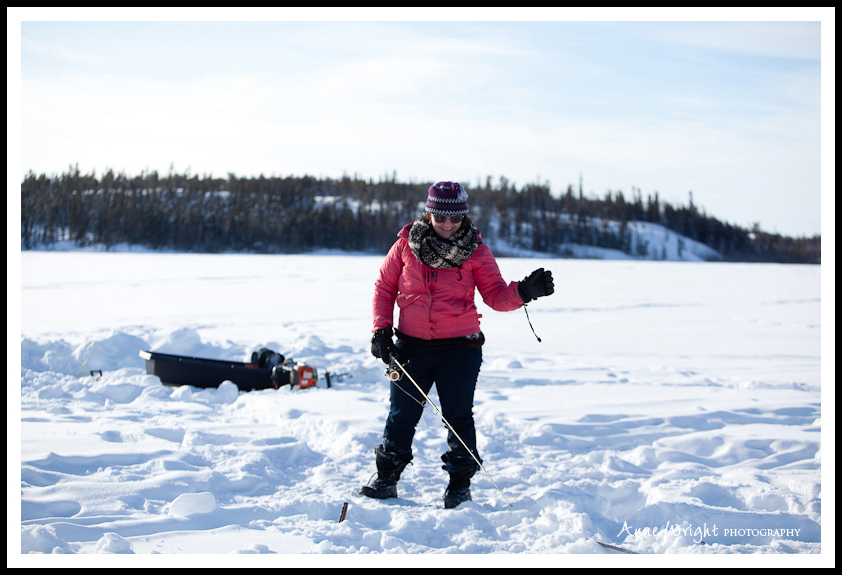 On my last day I decided to go snowmobiling. It was much more fun than I expected! It's like cross-country skiing (you enjoy the views!), but without the effort and with much more speed!! 😀 One of the perks of being alone is that I got my own guide, she hoped on behind me and off we went – no need to share 🙂 . We went from lake to lake through little wooded paths – speed on bumpy lakes then slower through the woods over little trails which were beautiful. We started just 2 hours before sunset and the light was a gorgeous pinkish hue. Filtering through the snowy trees, it was breathtaking. At one point, on a lake, the light hit at an angle where it exploded onto the snow – I gasped, out loud. I have seen shimmering snow before but nothing like this – suddenly, half the lake was covered in billions of sparkling diamonds – it almost was too much for the eyes to take in, blinding – and utterly beautiful.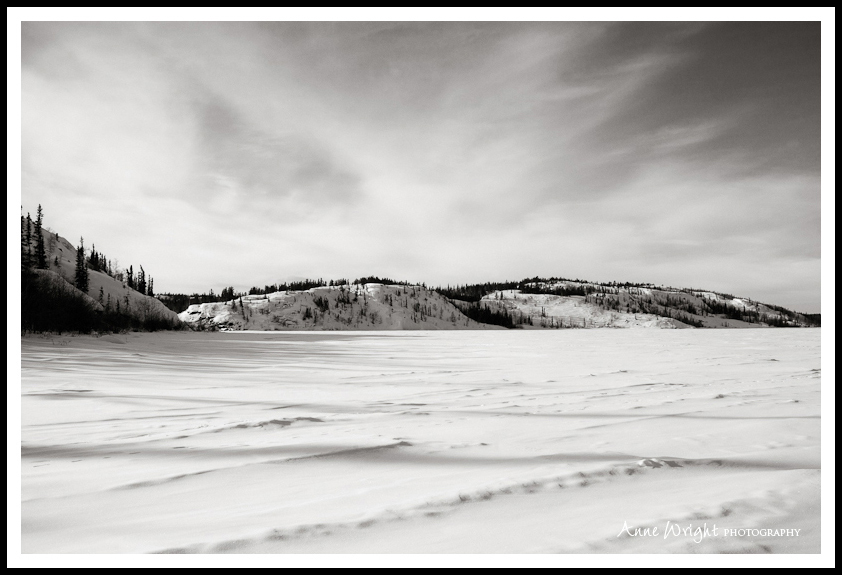 The cold
I hadn't been stupid about the cold in Yellowknife. I might have looked a little cocky posting a "showoff" selfie without a coat on by -28C (add windchill…). Canada had just won the Men's Hockey Gold so I called it my "We. Are. Winter" shot (note I was Canadian or Dutch during the Olympics, not French…). But I was wearing my Icelandic sweater and they are designed for North of 66! I otherwise wore 3 winter layers – top (thermal undershirt, Icelandic sweater and ski jacket) and bottoms (thermal long johns, pants and ski pants). I had a hat from Pangnirtung – check out how North that is – even the pompon serves a purpose as it is designed to keep your hood up no matter the wind. Dave's super size ski gloves (better than mine) were the only thing that was not quite warm enough. Stéphanie had me try her beaver mittens for a bit- they were so oversized I could have put my thighs in there! And I thought, I'm not so sure about this – but within a minute I went from painfully frozen to warm hands!!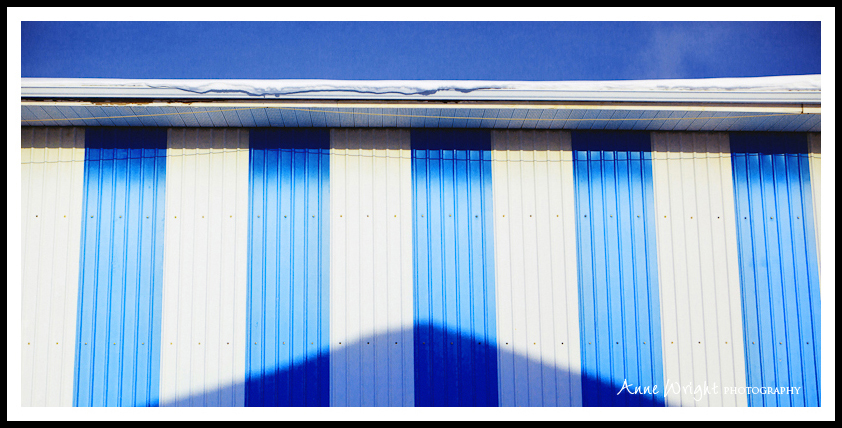 Taking photographs was less of a joy than usual. Almost every shot you wonder – is it worth getting out of the car for? And probably half of the time, I shot through the window! Usually you get a good frame by taking the time to take your surroundings in. But taking my time is not something I want to do in -40C. I trusted the Canon would handle the cold and only once did it fail me – it took me nearly a minute to get the shutter to actually work – but by then it had been outside for 45 minutes in -47C so I forgave him and gave him the afternoon off. I however had not anticipated that the locking mechanism of my heavy duty tripod would jam, frozen, at 2am.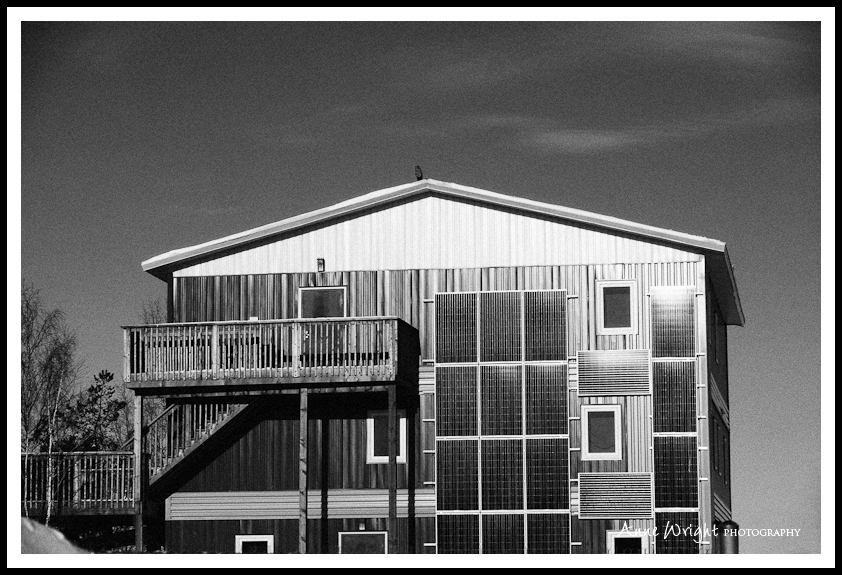 Operating the camera at night was ok, I can set those dials blindfolded, but with huge mittens on? Much harder!! I ended up having to remove my gloves too often – once I accidentally touched the frozen metal leg of my tripod – OUCH. As for that self portrait in front of the Aurora – I had my gloves off for about 3 minutes in a row holding the cell phone and I have never felt so much pain in my fingers than when I returned to the car after that – no more long exposure selfies!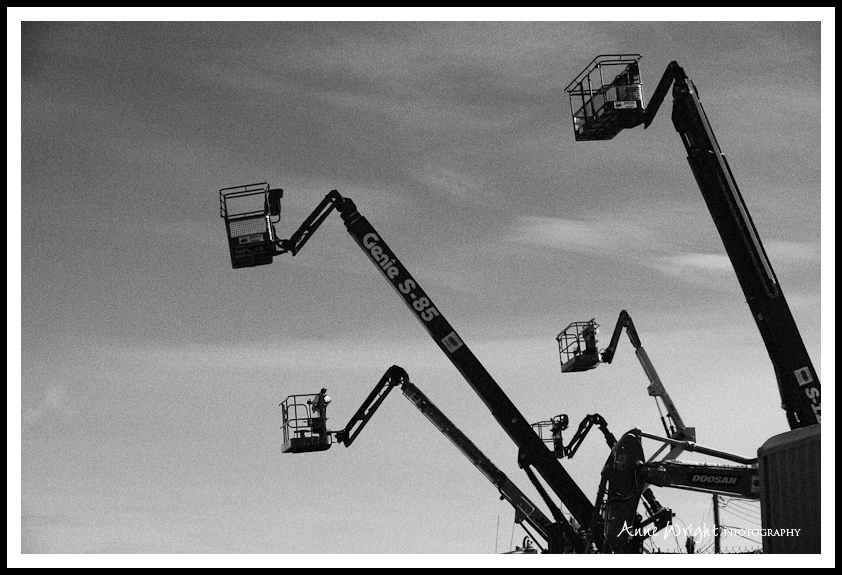 The fears
My sister says she was afraid on my behalf, picturing me watching the Northern Lights, alone by the side of a road in the middle of nowhere not far from the arctic circle at 2am in -36C without the windchill. She concluded "You have balls of steel!" 😀 . For the record, I don't… I had a car, a motel and a debit card – I wasn't exactly roughing it! But I have to say, I got a little scared a few times while I was there. First I had to adjust a bit to the local landscape & climate and that meant getting over some completely stupid fears – like, no need to hesitate to ride on the lake roads, you're not going to break the ice and fall in the water, big dummy…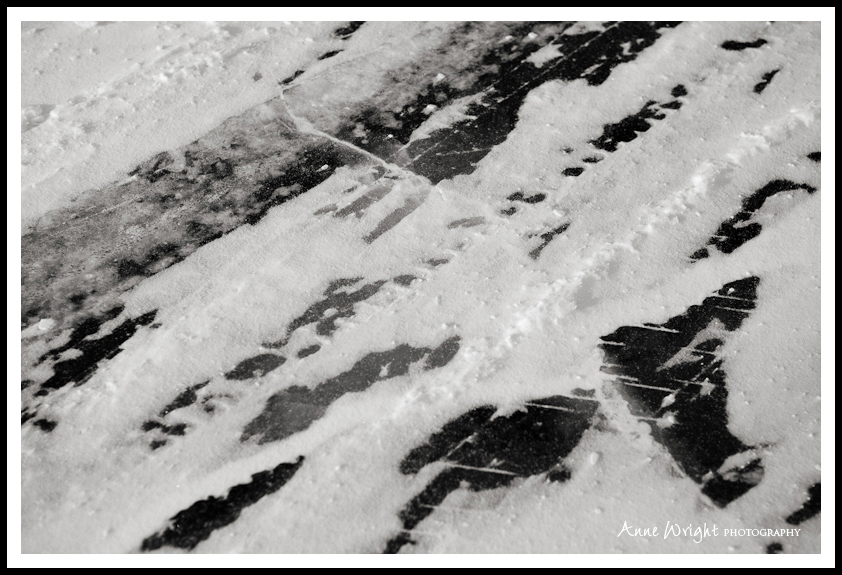 Also, the first time I stopped by an embankment to take a picture, I stepped on what looked to me like a foot of snow, and actually fell through up to my waist – there was no danger whatsoever but I learned – when in Yellowknife, walk where human tracks are visible…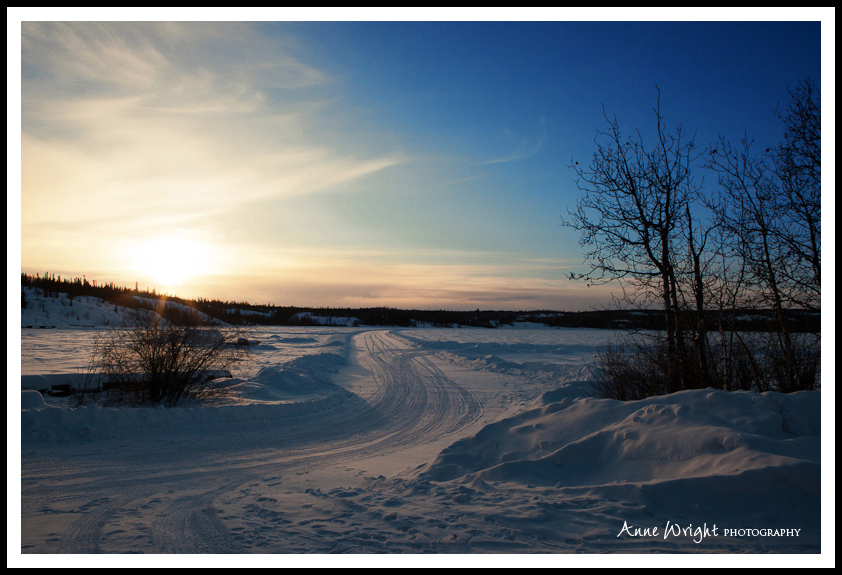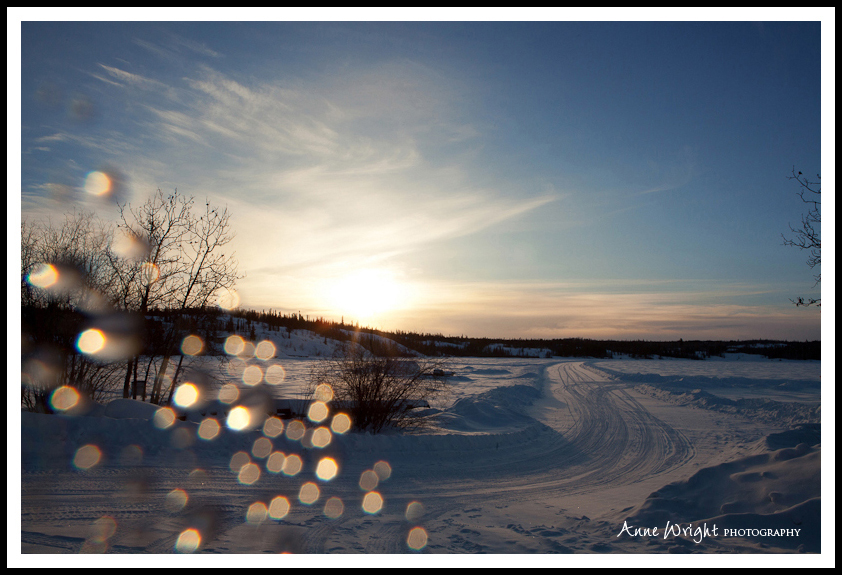 I admit, the idea of driving out at night onto the one lane Ingraham trail was a little nerve wrecking at first. It meant going 70km/hr on one giant sheet of graveled ice in the total dark… Also the"Check Engine" light was blipping in my rental – but then again isn't that the default setting for Chevy's? 🙂 But if I were to have car trouble, I wouldn't have to freeze to death overnight as you'll see an "Ice Road Trucker" on the trail every 5 minutes on average. Also, best surprise ever, an hour out of the city I still had phone reception. I just had to not be stupid – don't stop on the side of the trail, don't go onto the small ice roads as you could get stuck on those, be within walking distance of the trail… So at 2am there I am on rest areas, mesmerised by the light show above my head – alone in the pitch black wilderness.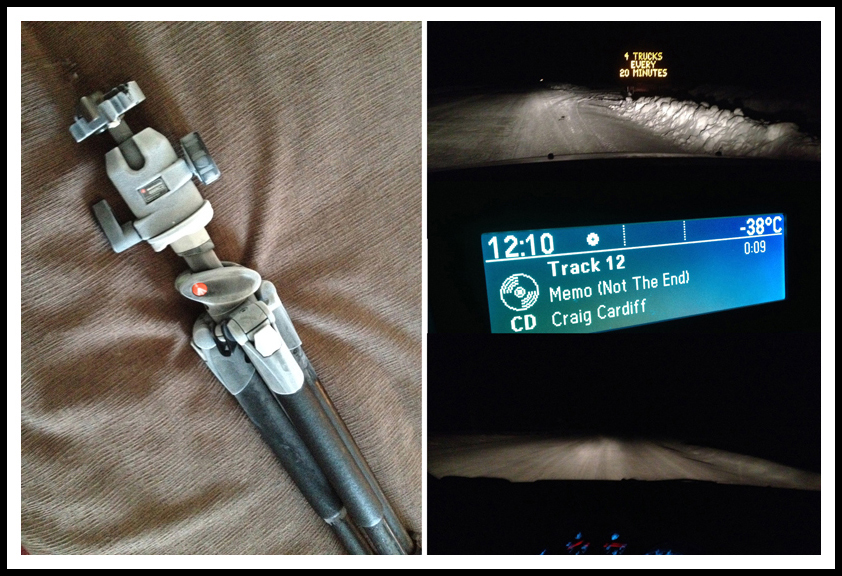 At night, I have a very active imagination and my emotions are always quite heightened – everything seems "bigger", good or bad. Like once I was reading the coming back to life of Voldemort in Harry Potter and suddenly Dave's in front of me and I screamed like crazy (I've been told before I'm highly entertaining when I squeal in fright…). So maybe you can imagine how I felt when I suddenly saw large shadows move right next to me while I thought I was alone? My heart raced just a bit… Until I realised it was caused by the headlights of a truck so far away I couldn't hear him yet and that the shadow projected was that of my own car! I didn't feel so hot either when I heard some cracking noises at 1.30am alone by the lake. I am in the middle of open terrain and I could see there was nothing around. But then I remembered my mom asking what if I met a bear? Mom, they're hibernating and there are no polar bears in this area. ""How about wolves then?" Ah crumbs, I had forgotten about wolves, or cougars for that matter, or… Jeez, thanks Mom, NOW I'm scared! But again, looking at things without letting my mind go wild, I knew I was safe in my car or a meter away from it taking pictures. The Northern lights were worth being a bit scared alone in the dark 🙂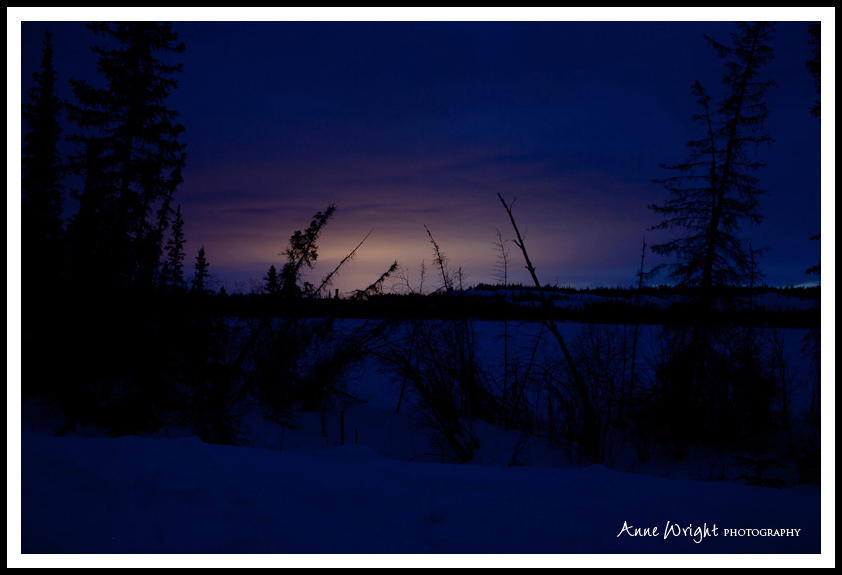 I did experience one bigger and much more founded fear – that of losing (part of) my nose. When I was snowmobiling it was -47C and I had been driving around 40km/hr for about 1h30min. On the picture below you can see that the visor that was supposed to protect my face was much much lower than it would have needed to be (then again, it wouldn't be the first time a girl thinks, hey, my eyes are up here…).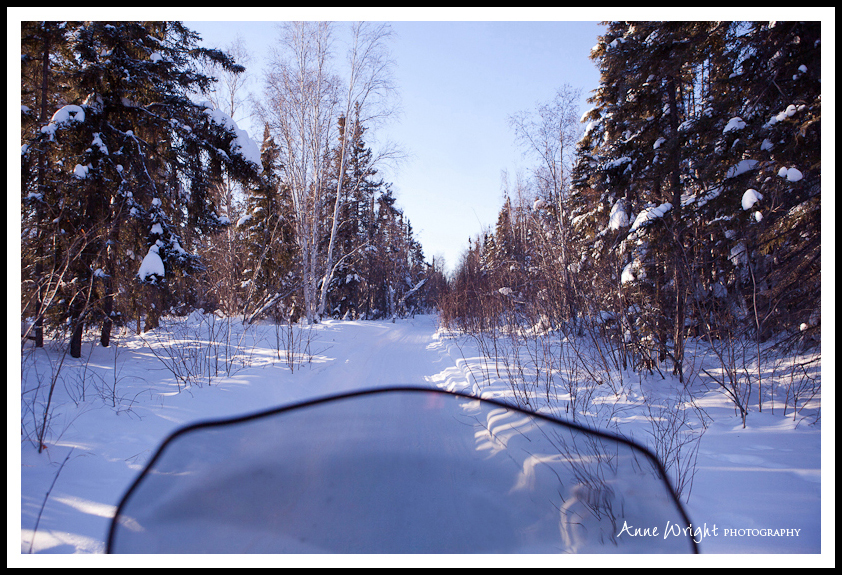 And the wind had scorched my face at first but as we were nearing the cabin where we were suppose to stop for bannock, I wasn't even feeling cold anymore… Of course that should have been a big alarm bell but I was too taken by the amazing Nature around me. My guide looked at me, her expression changed – she ordered "pull your scarf up NOW" and I realised it had slipped off. She told me later my entire nose had gone pure white, meaning 2nd degree frostbite to possibly 3rd (that's when you lose part of your nose – or all of it). I urgently took a glove off and touched my face – it didn't feel like skin anymore; my nose was stone. My stomach lurched "Oh f* – now I've done it". We got in the cabin – and I have never felt more grateful for pain – as it instantly took over my face. My nose wasn't dead, at least not all of it. Over the next hours and days I saw it along with most of my left cheek turn purple, then black as soot (that was even scarier), then peel in a rather gruesome way – which gave for interesting messages from my sister full of expletives. But hey, I hear people pay good money for chemical peels… The doctor gave me a cream for burn victims to use for a few weeks and I'm almost back to my normal self now, I can just see a difference in coloring which I hope will dissipate. I'd love to avoid scarring. If I don't, I guess I will have a good story for it, better than "I walked into a door" for example, but really I'd rather not have permanent damage!

Finally, a few other things I've learned
In random order: don't keep an apple in the car as a snack when in Yellowknife in the winter. It turns out frozen apples can not be bitten into… If you order a beer at the Bullocks Bistro, you don't get a glass – last time that happened, I think I was still being ID-ed. You do not get a menu there either, you're just told which kind of fish they have that day, which one do you want? The trout from Slave lake was possibly the best I ever had.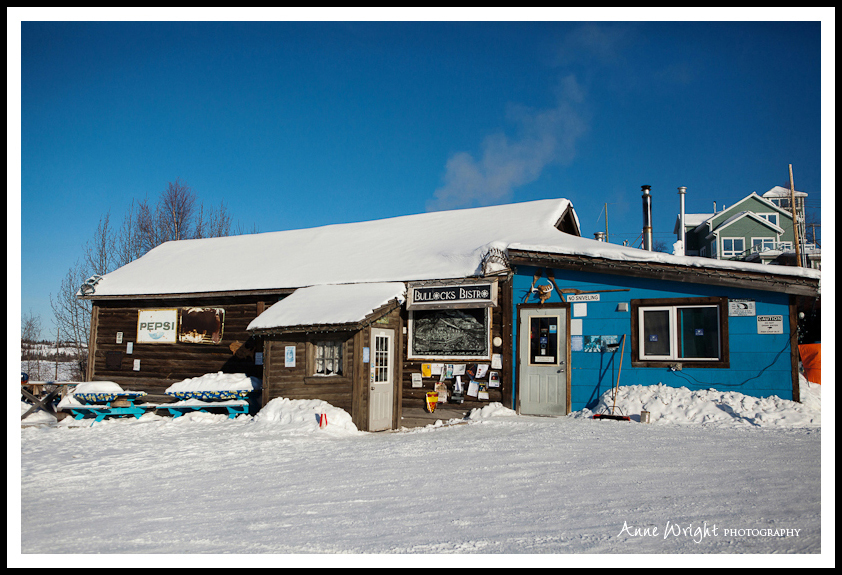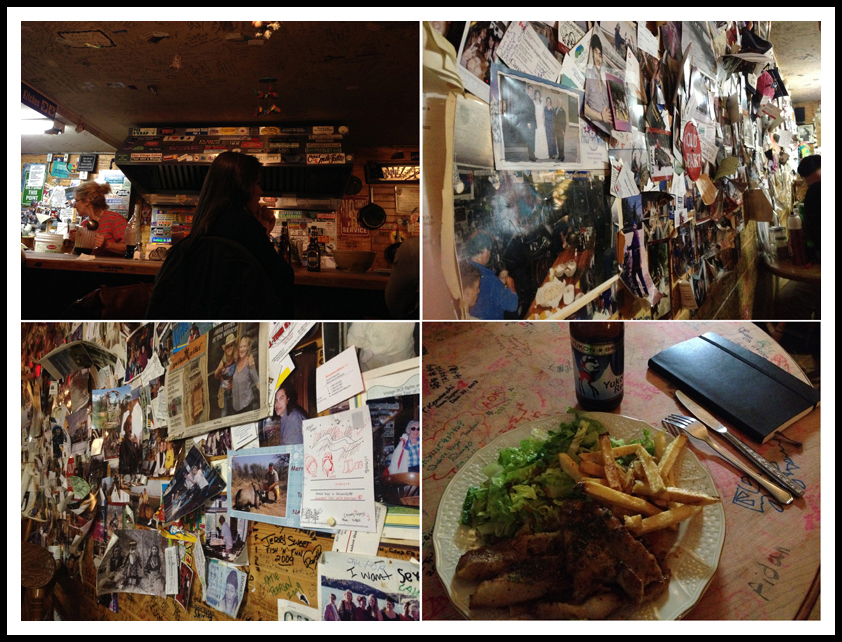 When talking about temperatures outside, you do not say "minus" – everyone KNOWS it's "minus" – instead conversations with the motel clerk go like this: Me: "I couldn't find a spot to plug my car in for the night" Her: "What is like outside tonight? 24, 25? Almost summer really… Your car will start tomorrow, don't worry". Flower shops up there are filled with silk flowers, not fresh ones… Earphone wires will totally stiffen within 5 seconds of you walking outside, the whole thing becomes a solid twig-like contraption and will snap in two when you try to put it back in the car. Watching a guy fly a remote controlled acrobatic red plane in the middle of a frozen lake is pretty cool.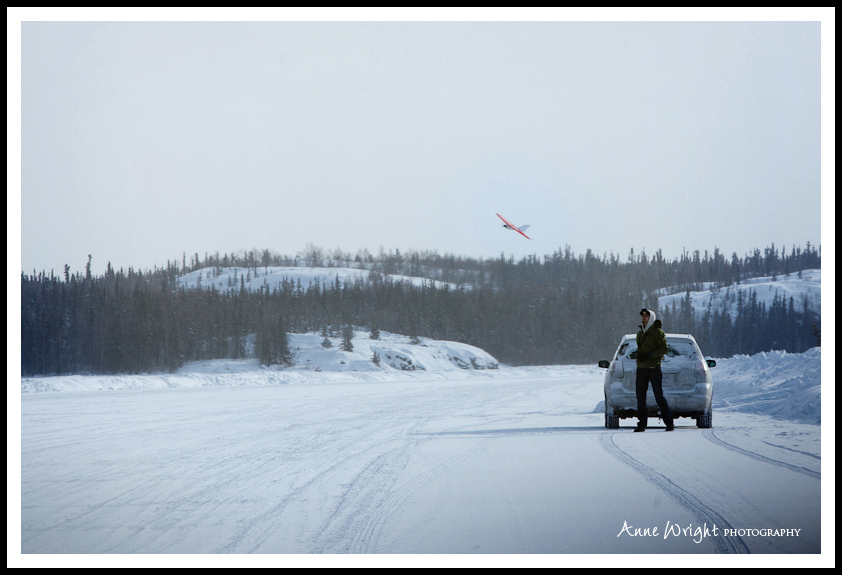 Ravens are fearless and terrifyingly large. Homeless people will steal in the hope of getting caught so they can spend the winter in prison (stores have photos of banned shoplifters with their names under them!!). Yellowknife's Walmart is just as horrible as any Walmart around North America and it too has a seasonal aisle filled with St Paddy's day green junk – and toothpaste, which is what I needed there. When they cut ice from the lake in November to store blocks for the building of the castle, SnowKing and his crew need about 5 days. In those 5 days, the thickness of their blocks go from 7" to 9.5". Everyone is very proud of "Air Buffalo" and points out their planes and hangars and guys wearing their jackets and clearly I felt I should watch more TV shows… "The Dancing Moose" is a pretty great name for a cafe. If you put in the same facebook post "Today I ice fished!!" and "I got 2nd degree frostbite", you'll actually get a lot of "likes"… Only one friend would repeatedly tell me to "please, be careful!". It was great to know that everyone was really excited for me! – and that one guy actually reads my fb updates till the end of the sentence! 😉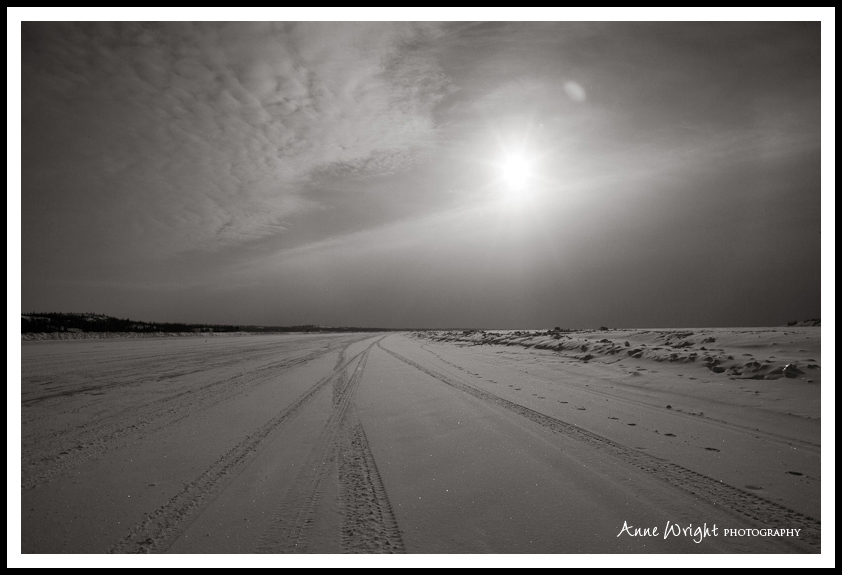 And if you've read me until here, it might be a miracle as well 🙂 The thing is, as expected, nothing really "changed" by me going to the North West Territories. Yet it's likely these few days North of 60 will stay with me for many reasons. It is an experience that somehow left a mark on me – as have a few others lately. I read recently that Jung said "Life really does begin at forty. Up until then, you're just doing research" – I really like that thought. And I can not help but have a little smile thinking that this out-of-the-ordinary-for-me adventure was a lovely part of "research" – as have a few others lately too.